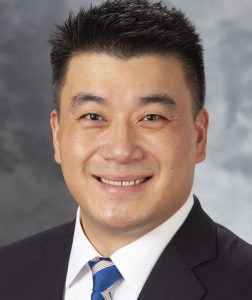 Frank C. Lin, MD, MS, joined the Department of Urology in September 2020. Dr. Lin completed his undergraduate and graduate work in molecular biology and engineering biotechnology at the University of Pennsylvania and then graduated from medical school in 2013 from the University of Nebraska Medical Center. He completed his urology residency at the University of Arizona in 2018, where he gained exposure to male and female reconstruction and became interested in Female Pelvic Medicine and Reconstructive Surgery (FPMRS). After completing residency, he went on to fellowship at the University of California, Los Angeles where he was able to gain a deeper knowledge with dedicated FPMRS training.
Dr. Lin is board eligible in Urology and Female Pelvic Medicine and Reconstructive Surgery, a sub-specialty certification jointly administered by the American Board of Urology and the American Board of Obstetrics and Gynecology. His specialties include Pelvic Organ Prolapse (POP), Stress Urinary Incontinence (SUI), Overactive Bladder (OAB), neurogenic bladder, complex voiding dysfunction, and urinary diversions.
In addition to his clinical specialties, Dr. Lin brings new technical expertise to our department in Robotic Sacrocolpopexy. This fast-growing approach for treating advanced stage pelvic organ prolapse allows for a less invasive procedure with minimal blood loss and pain. Additionally, he is well versed in mesh complications and mesh alternatives for prolapse and urinary incontinence using autologous fascia harvested directly from the patient.
Reflective of his goals and passions, Dr. Lin's clinical research will examine the outcomes of surgeries involving videourodynamics and other complex cases for patients with recurrent conditions with the goal of improving patient management and quality of life.
Dr. Lin also prioritizes trainee education and is excited for the expansion of the FPMRS fellowship at UW-Madison. This is a new joint program between Urology and Urogynecology. He looks forward to working with residents and fellows.
Welcome to the team, Dr. Lin!