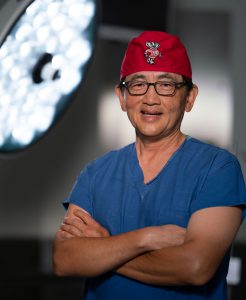 The Endourology Program at the University of Wisconsin-Madison is an Endourology Society accredited fellowship. The fellowship program was established by Dr. Stephen Nakada in 2002.
Currently a one-year program,  this fellowship has both a clinical and academic focus.
---
Clinical
---
Dr. Sara Best, Dr. Sean Hedican and Dr. Stephen Nakada are the core fellowship faculty. Other faculty includes Dr. David Jarrard, an expert in robotic prostatectomy. Fellows will have an opportunity to master the medical management of stone disease through participation in our multi-disciplinary stone clinic, including working with Dr. Kris Penniston and nephrologist Dr. Allen Jhagroo.
During the course of their clinical training, our fellows gain broad experience in endourology, laparoscopy, robotics, and percutaneous surgery. The full range of minimally-invasive therapies for kidney tumors are explored, including laparoscopic/robotic partial nephrectomy, radical nephrectomy, and percutaneous and laparoscopic ablation. Faculty in interventional radiology include Dr. Prasad Dalvie, Dr. Jason Pinchot and Dr. Mark Kleedehn.
1 Year Logs:
Ureteroscopy 100
PCNL 50
Lap/robotic upper tract 35
Lap/robo lower tract 75
Ablation 20
---
Research
---
All endourology fellows have dedicated research time and a dedicated research lab, including access to a PhD. The expectation of the fellow is that he or she complete a basic science project, as well as all of the appropriate Endourology Society fellowship requirements. Fellows also have access to a brand new, state-of-the-art Simulation Center to develop their laparoscopic skills as well as for potential investigations. A fully equipped animal laboratory is also available.
Our fellows also are involved in clinical and teaching exercises associated with our residency program as the fellowship regulations allow. Any inquires should be addressed to Dr. Sara Best or Dr. Stephen Nakada.
Faculty