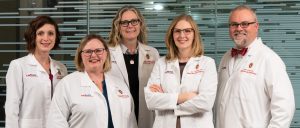 The Female Pelvic Medicine and Reconstructive Surgery (FPMRS) Fellowship Program seeks to improve the quality of women's health care by producing outstanding clinician-scientists who go on to become educators and leaders in advancing the knowledge and treatment of female pelvic complications and diseases.
A Dynamic Collaboration
As the only multidisciplinary program in the state, and one of the few in the country, this dynamic collaboration between Female Urology, Urogynecology, Gastroenterology, Colorectal Surgery, Pelvic Floor Physical Therapy, and Nutrition Therapy bolsters the quality of FPMRS training.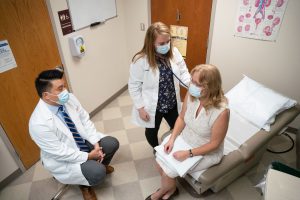 Fellows receive advanced surgical training in vaginal, abdominal, laparoscopic, and robotic procedures, as well as highly specialized clinical experience in evaluating, diagnosing, managing, and treating conditions affecting the female pelvic floor, including urinary incontinence, lower urinary tract disorders, fistula repair, overactive bladder, pelvic organ prolapse, and colorectal dysfunction. 
Further, our fellows advance their analytical and scientific research skills by conducting a research project with relevant application to the advancement of FPMRS care and treatment, resulting in their final thesis for board certification and subsequent submission of a manuscript for publication.
---
Eligible candidates must have successfully completed residency at an accredited program in either Urology or Obstetrics and Gynecology.
---
Training Period
Fellowship training for urologists consists of two years, while the training period for obstetrician-gynecologists consists of three years. 
Application/Interviews
We are currently accepting both Urology applicants for a two-year position and Obstetrics and Gynecology applicants for a three-year position.
All applications must be submitted through ERAS and candidates must participate in the NRMP
Interview dates: April 13, April 27, and May 11, 2023