Apply today! Summer Program for Undergraduate Urology Research (SPUUR) is accepting applications now through March 1, 2019!

 Summer Research Opportunities in benign urology are available to undergraduate students. Our exciting 12-week summer research program will immerse students in the laboratory research experience and provides weekly mini-lectures in benign and clinical urology. Students gain essential skills to position them for success in post-graduate studies. Students will present and receive reviews of their individual work at the end of the program. Click here to learn more and apply!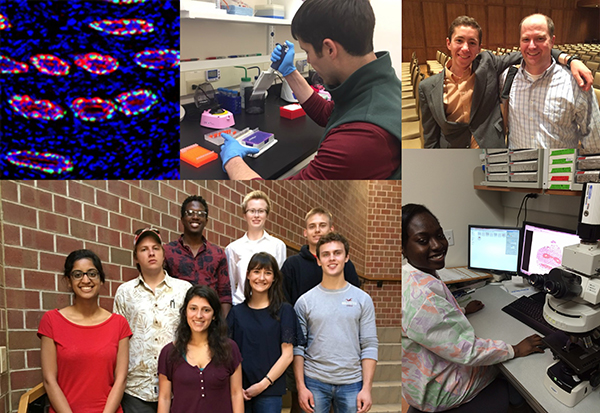 Research undertaken at the UW-Madison George M. O'Brien Center for Benign Urology Research is dedicated to improving urologic health in aging men. The center is a multi-site research cooperative between the University of Wisconsin-Madison, University of Massachusetts-Boston, and the National Institutes of Health (NIH). Our lobster and cheese insignia reflects the Wisconsin-Massachusetts collaboration.
---
Mission Statement
The O'Brien Centers were established by the NIDDK in 1987 as P50 programs and worked independently. They were converted to the U54 mechanism in 2012 to encourage collaboration between funded centers and sharing with the larger research community with the following mission:
Support the next generation of urologic researchers by providing meaningful education, support, and mentoring
Cultivate new research tools and ideas by expanding the collaborative network within and outside of the traditional urologic research field
Enhance knowledge of mechanisms associated with normal development, function, and disease pathology related to the urinary tract, kidney, and prostate
Translate knowledge and tools generated from our collaborations to the clinical setting to reduce the burden of benign urologic illness by developing and testing therapies to better treat, manage, and prevent these diseases
---
Goals
Identify factors that cause urinary dysfunction in aging men
Build consensus around research approaches to model urinary dysfunction in rodents
Provide opportunities for established investigators to transition into the field of benign urology
Secure the future of urologic research by promoting development of the next generation of urologic researchers
Disseminate urologic research knowledge through seminars, workshops and symposia
Resources provided by our center:
Opportunity Pool Program to fund early-stage and high-risk/reward benign urologic research
Assistance in the generation of preliminary data for R-based, and other

NIH

grant applications
Validation of rodent urinary function testing research protocols to model urinary dysfunction
A full-service core facility for rodent urinary function testing
Development of software and technology to improve urologic research
A public database linking rodent urinary physiology, anatomy, and molecular biology