The Urologic Oncology program within the University of Wisconsin Department of Urology utilizes resources and expertise throughout UW Health and the UW School of Medicine and Public Health to offer comprehensive treatment of these genitourinary cancers:
Prostate
Kidney
Bladder
Penile
Testicular
Our section consists of four urologists who focus on and have completed rigorous training fellowships in the field of genitourinary cancer. The department has built a strong national reputation for clinical care in urologic cancer, as well as a longstanding history in investigative science in the major urologic cancers. Members of our group work together and with other cancer specialists toward the same goal: curing urologic cancer.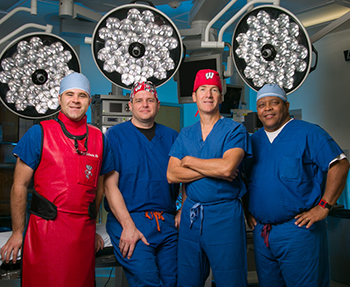 Photo: The UW Department of Urology urologic oncology team includes, left to right, Dr. Kyle Richards, Dr. E. Jason Abel, Dr. David F. Jarrard, and Dr. Tracy M. Downs.
UW Health has a focus on comprehensive cancer care as well as minimally invasive surgery. Our surgeons were pioneers in minimally invasive kidney surgery, and UW was one of the first centers in the United States to obtain the tools necessary to perform robotic prostatectomy. Robot-assisted procedures help minimize recovery associated with surgical cancer treatment, and to date we have performed nearly 2,000 robotic urologic cancer procedures. Additionally, we are one of only a small number of centers across the United States that offers Robotic-Assisted Retroperitoneal Lymph Node Dissection, a minimally invasive procedure common in the treatment of testicular cancer.
The University of Wisconsin Carbone Cancer Center is one of the oldest cancer centers in the United States and the only cancer center in Wisconsin designated through the National Cancer Institute as a comprehensive cancer program. Our urologic cancer surgeons are members of the UWCCCand work in collaboration with other cancer specialists from the fields of radiation therapy, pathology and medical oncology to fashion multidisciplinary approaches to treat urologic cancer. This translates into more options for patients undergoing cancer treatment.
This website is a general resource for patient information, details, results and implications of urologic cancers and surgery to treat them. We hope it will answer many of your questions, and we encourage you to call (608) 263-4757 for further information and to make an appointment.