UW Urology Oncology Section at AUA Meeting
May 20, 2015 — The Urology Oncology Section had a strong presence at this year's American Urological Association (AUA) annual meeting in New Orleans. The faculty, fellows, and residents at UW presented 17 cancer research projects during the poster and podium sessions.* Best poster was awarded to Renin-angiotensin Inhibitors Decrease Recurrence after TURBT in Non-muscle Invasive Bladder Cancer. In addition, Dr. Richards' study titled "Urinary tract infection is associated with worse bladder cancer outcomes in the Medicare population: Implications for sex disparities" was featured in a special session for exceptionally newsworthy research. Finally, Optimal Treatment for 4-10 CM Renal Cell Carcinoma: A Survey of Endourologists and Urologic Oncologists was included in the renal cell cancer take home messages.
UW urologic oncologists also served as faculty during the AUA annual meeting. Dr. Abel taught a course titled "Management of Locally Advanced & Metastatic Renal Carcinoma: A Case Based Approach" and moderated an advanced kidney cancer research session. Dr. Downs organized and moderated a panel discussion at the Society of Urologic Oncology (SUO) meeting titled "Evaluating the Risk Locally Advanced and Micrometastatic Bladder Cancer Prior to Cystectomy." Dr. Jarrard was the chair of the organizing committee for the SUO meeting at the AUA and gave a presentation titled "Prostate Cancer Biomarkers for Tailored Therapy: Value Added or Only Cost?"
*MP26-08, MP26-09, MP35-17, MP39-15, MP44-16, MP59-04, PD4-08, PD35-05, PD35-11, MP26-01, D17-06, MP37-20, MP55-11, MP20-09, MP67-03, PD8-03, PD23-10
---
Student under Dr. Abel's mentorship wins Shapiro research award
March 31, 2015 — Joel Prince, a second-year medical student in the School of Medicine and Public Health, is one of three recipients of a 2015 Herman and Gwendolyn Shapiro Excellence in Student Research Award. This award is given to second-year students whose research accomplishments during the first two years of medical school are outstanding.
Joel's mentor is E. Jason Abel, MD, assistant professor of urology. Their research involved identifying patient and tumor characteristics that predict which patients will have non-diagnostic findings from renal mass biopsy.
Joel will be recognized at the UW SMPH Honors and Awards ceremony on May 14.
---
UW urologic cancer researchers present work at recent events
At the 2014 UW Medical Student Research Forum, November 24, 2014, at the UW School of Medicine and Public Health, medical students presented six urologic oncology abstracts. Drs. Jason Abel, Tracy Downs and David Jarrard served as research mentors for ambitious first-year medical students as part of the Shapiro Research Program. This year's group was particularly successful with multiple abstracts accepted for presentation at national meetings and manuscripts already accepted for publication.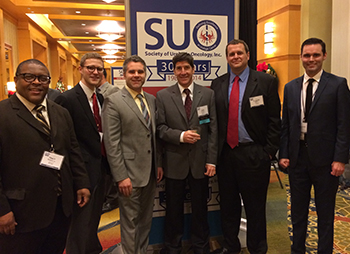 ---
At the Society of Urologic Oncology (SUO) Annual Meeting in Bethesda, Maryland, December 3-5, 2014, the UW Urologic Oncology group presented five urologic cancer projects. Pictured above from the SUO meeting are, left to right, Dr. Tracy Downs, medical student Dr. Tim Rushmer, Dr. Kyle Richards, Dr. David Jarrard, Dr. Jason Abel, and urologic oncology fellow Dr. Michael Blute.
---
"Red, White and Blue Light Cystoscopy: New Technology Arms Patients and Physicians in the Fight Against Bladder Cancer"
By Tracy Downs, MD
Published in Armed Forces Medicine, 2014
---
"The BADGR Nomogram: Improving the Ability to Identify Med Who Need Prostate Cancer Treatment"
By David Jarrard, MD
Published in Wisconsin Urology