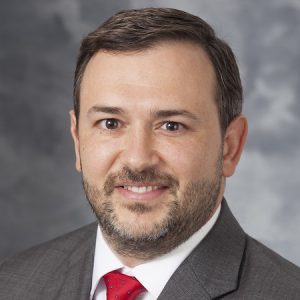 Dr. Tudor Borza, a urologic oncology surgeon, is one of those people that everyone looks forward to working with because he is a force multiplier, in addition to being kind and compassionate. He arrived on the Meriter Medical Staff in the fall of 2018. Prior to that, all urologic oncology surgeries were done at UW Hospital. Dr. Bora, with his stand-out commitment to high-level oncology care, started bringing patients to Meriter for their urologic cancer surgeries.
Over the time Dr. Bora has practiced at Meriter, he has brought more high-level cancer patients for surgery here. To do this meant he worked collaboratively with the OR staff and anesthesia. He paid close attention to OR block time availability and utilization to get more patients (his) scheduled for surgery; often sooner than routine scheduling might dictate. Dr. Borza has partnered with other service line surgeons to bring more complex surgeries to Meriter as well. He has advanced the quality of care for urologic cancer patients at Meriter by getting them to surgery more quickly. Dr. Borza, with others, helped justify and support the purchase of a second DaVinci robotic surgical system – which has improved access to state-of-the-art technology for other surgical service lines throughout our healthcare system.
When problems occur, he doesn't hesitate to bring concerns forward and help seek solutions. Dr. Borza noticed that patients requiring blood type and screen on the day of surgery frequently had a delayed start of surgery. The solution was to have the patient come in earlier so neither the patient nor Dr. Bora had to wait to start surgery.
Through all of this Dr. Borza is affable and humble. He takes time to make connections with all members of the health care team. He'll stop you in the hallway to ask you about your family.



---
Note: This article originally appeared in UnityPoint Meritor's Medical Staff News.