The Department of Urology is nationally recognized as a leader in many disciplines. It has a large innovative surgical practice, broad-based clinical and research programs in adult and pediatric urology, and young, dynamic faculty. We care for a complex and diverse patient population. Your residency is enriched by a healthy, environmentally conscious, family-oriented college town that offers the best in Midwest living.
Available positions: Three
Length: Five years
ACGME accredited: Yes
Application deadline: To be considered for the program, application materials must reach our offices by September 30 of the application year. We accept applications sent electronically through ERAS. Learn how to apply.
Residency Program Director: Daniel H. Williams IV, MD
Benefits: See stipend and benefit information.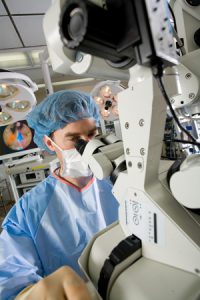 Each year, we perform more than 6,800 urologic diagnostic procedures in the UW Hospital Urology Clinic. At the VA Hospital, we perform another 500 minor and/or diagnostic procedures annually. As a resident, you will receive many opportunities to hone your clinical and surgical skills: you and your colleagues will perform well over two-thirds of UW Hospital's 1,500 urologic operations each year, as well as most of the VA Hospital urology service's 175 major procedures. The private practice rotations also give you valuable exposure to a managed care environment.
The department's clinical expertise include urologic oncology, endourology, robotics, laparoscopy, pediatric urology, female urology, neurourology, and infertility, among other areas. This is shared with residents through daily faculty interaction in clinic, OR, and daily rounds.
The department's didactic curriculum is another crucial part of your training. Weekly teaching conferences include grand rounds, professor's rounds, stone conference and oncology conference. At the Wednesday morning conference, a variety of topics are addressed including journal club, pathology conference, radiology conference and indications conference. With ideas and resources gained from national urologic conferences, we also structure weekly subject-oriented seminars in a problem-based format. Resident education is robust and plays an integral role in planning the year's education program. In addition, all urology residents are expected to be attentive and proficient teachers of medical students.
Medical research is an important aspect of your urology residency. Many of the faculty members have basic science or clinical research programs, studying – among other topics – prostatitis, noninvasive methods of kidney and prostate surgery, genetic mechanisms in prostate cancer, the safety and efficacy of a vaccine for recurrent urinary tract infections in women, the effect of the sensory nerve system on bladder function, ureteral physiology, early detection of bladder cancer, and pediatric kidney stone disease.
Our department is also involved in many clinical investigations of cancer therapy as part of the UW Carbone Comprehensive Cancer Center. We maintain a collaborative clinical research effort with the Department of Medicine and Department of Pediatrics' Division of Nephrology on the etiology and treatment of kidney stones. Faculty are participating in cooperative group studies for adult and pediatric urologic malignancies, benign prostatic hyperplasia, endourology and laparoscopic instrumentation, neurourology, and various drug therapies. As a resident, you will be encouraged to become involved in these clinical trials, and to present the results of your basic and clinical research at local and national meetings.
The residency program in urology fills three positions each year through the American Urologic Association match. Your PGY-1 year is completed at UW and affiliated hospitals in general surgery. The four-year urology residency begins in the PGY-2 year, for a total of five years of training.