Frank Lin, MD, MS
Credentials: Assistant Professor (CHS)
Position title: Specialties: Female Pelvic Medicine and Reconstructive Surgery (Urogynecology), Minimally Invasive Surgery
Email: lin@urology.wisc.edu
Phone: (608) 265-8574
Address:
UW Medical Foundation Centennial Building
1685 Highland Ave
MADISON, WI 53705-2281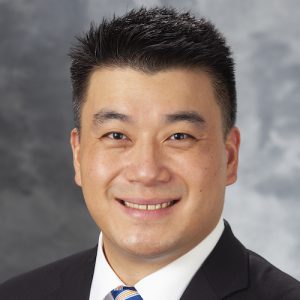 Education
Undergraduate: B.A., Molecular Biology
University of Pennsylvania (Philadelphia, PA)
Graduate School: M.S., Engineering Biotechnology
University of Pennsylvania (Philadelphia, PA)
Medical School: M.D.
University of Nebraska College of Medicine (Omaha, Nebraska)
Residency: Resident in Urologic Surgery
University of Arizona (Tucson, Arizona)
Fellowship: Female Pelvic Medicine and Reconstructive Surgery (FPMRS)
University of California, Los Angeles (Los Angeles, California)
Clinical Specialties
Robotic-Assisted Sacrocolpopexy
Vaginal Prolapse
Pelvic Organ Prolapse
Urinary Incontinence
Urethral Sling
Overactive Bladder (OAB)
Bladder Botox Injection
Interstim
Sacral Nerve Stimulation
Sacral Neuromodulation
Neurogenic Bladder
Vaginal Mesh Removal
Urinary Fistula Repair
Urinary Diversions
Urodynamics
Female Pelvic Medicine and Reconstructive Surgery (FPMRS)
Urology

Dr. Lin is a board-certified Urologist specializing in Female Pelvic Medicine and Reconstructive Surgery (FPMRS), a sub-specialty certification that is jointly administered by the American Board of Urology and the American Board of Obstetrics and Gynecology. He treats all aspects of pelvic medicine and urology. Dr. Lin completed advanced fellowship training in Female Pelvic Medicine and Reconstructive Surgery at the University of California Los Angeles (UCLA).
Dr. Lin specializes in the diagnosis, management, and treatment of female urologic and urogynecologic disorders including all medical and surgical therapies for Pelvic Organ Prolapse (POP), Stress Urinary Incontinence (SUI), Overactive Bladder (OAB), neurogenic bladder, complex voiding dysfunction, and urinary diversions.
Dr. Lin has significant basic science and clinical research experience at numerous academic institutions including the National Institutes of Health (NIH), the University of Pennsylvania, and the University of Nebraska Medical Center. He continues to pursue both clinical and basic science research which has been published in peer reviewed journals including the UROLOGY, Journal of Virology, Biochemical Journal, and International Journal of Oncology.
In addition to his clinical specialties, Dr. Lin brings new technical expertise to our department in Robotic Sacrocolpopexy. This fast-growing approach for treating advanced stage pelvic organ prolapse allows for a less invasive procedure with minimal blood loss and pain. Additionally, he is well versed in mesh complications and mesh alternatives for prolapse and urinary incontinence using autologous fascia harvested directly from the patient. Dr. Lin's philosophy is to provide compassionate and individualized pelvic medicine and urologic care to his patients.
Research Interests
Utility of advanced imaging and urodynamic testing in the treatment of urologic and urogynecologic issues
Advanced management strategies in Overactive Bladder (OAB)
Surgical outcomes in Robotic-Assisted Sacrocolpopexy
Mesh-related outcomes and complications
Selected Publications
Lin FC and Nitti VW. Voiding Dysfunction in Women. In: Walters MD, Karram MM, editors. Urogynecology and Reconstructive Pelvic Surgery: 5th Edition. Elsevier Saunders, Philadelphia, 2020. In Press.
Lin FC and Nitti VW. Chapter 22: Evaluation of neurogenic bladder dysfunction: Urodynamics. In: Essentials of the Adult Neurogenic Bladder 2020. 1 st Edition. In Press.
Lin FC and Nitti VW. The Role of Urodynamic Testing Prior to Third-Line OAB Therapy. Curr Bladder Dysfunct Rep (2020). https://doi.org/10.1007/s11884-020-00587-z
Lin FC, Medendorp A, Van Kuiken M, Mills SA, Tarnay CM. Vaginal Dehiscence and Evisceration After Robotic-assisted Radical Cystectomy: A Case Series and Review of the Literature. Urology. 2019 Dec;134:90-96. doi: 10.1016/j.urology.2019.09.009. Epub 2019 Sep 24. Review. PMID:  31560917
Lin FC, Funk JT, Tiwari HA, Kalb BT, Twiss CO. Dynamic MRI Defecography Phase in the Evaluation of Pelvic Organ Prolapse and Correlation with Physical Exam Findings. Urology.  2018 Sep;119:49-54. doi: 10.1016/j.urology.2018.05.031. PMID: 29944912
Lin FC, Lin JS, Kim S, Walker JR. A Rare Diaphragmatic Ureteral Herniation: Endoscopic and Open Reconstructive Management. BMC Urology. 2017 Apr 5;17(1):26. doi: 10.1186/s12894-017-0207-5. PMID: 28381270
Recent Publications