The goal of the research experience in the Urologic Oncology Fellowship is to provide the fellow with skills and experience in cancer biology and laboratory science, which will lead to success in their future academic career.
In the two-year research track, fellows are encouraged to develop preliminary data and apply for a career development award through the

NIH

or other agencies to help strengthen chances of early success in an academic career.
Several investigators in the Department of Urology have productive research laboratories and extramural funding. Fellows may choose a research project and mentor from the Department or within the University of Wisconsin Carbone Cancer Center (UWCCC). The Urologic Oncology research space is primarily based within the UWCCC. The UWCCC has a long tradition of excellence in training physicians and PhD investigators and in conducting research in clinical and basic cancer research. As an integral part of the UWCCC, the Department of Oncology (The McArdle Laboratory) is one of the nation's most respected basic science cancer research facilities. Dr. Harold Rusch, the founder and first director of the McArdle Laboratory, and Dr. Paul Carbone established the UWCCC in the 1970s to foster the development of clinically oriented laboratory and patient research in cancer. As a NCI designated comprehensive cancer center, we believe the UWCCC represents one of the finest clinical and laboratory research centers in the world with almost $150 million in research funding awarded to our 260 members annually.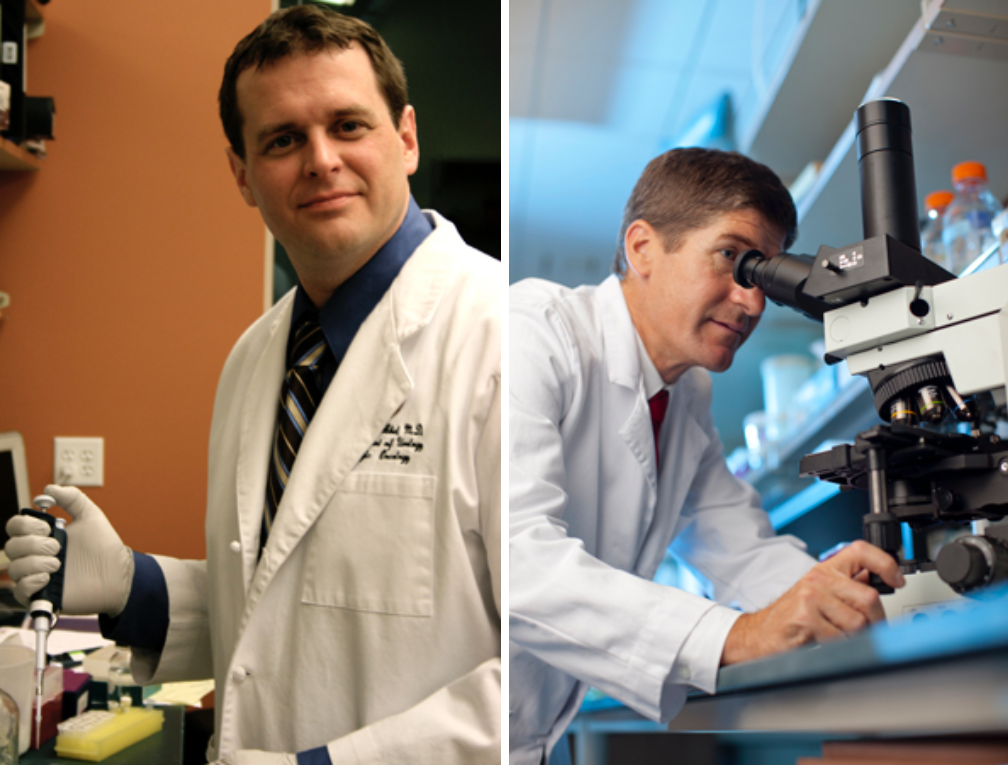 The urologic oncology faculty is committed to clinical research to improve patient outcomes in cancer surgery. Large developed databases have been established within the Department to help answer important clinical oncology questions and improve patient care. Statistical and research support are available within the department and cancer center.
Fellows participate in didactic courses in oncology, biostatistics, and ethics as well as weekly multi-disciplinary meetings.
The University of Wisconsin is also home to a School of Public Health and options are available for candidates interested in performing population-based research and obtaining advanced training within those programs.
An additional research year may also be utilized to obtain a Master's Degree in Public Health or clinical investigation.
Annually, the Urologic Oncology faculty and fellows present basic and clinical projects at the:
American Urological Association (AUA) annual meeting, Society of Urologic Oncology (SUO) Annual Meeting, American College of Surgeons (ACS) Clinical Congress, Society For Basic Urologic Research (SBUR) Annual Meeting, International Kidney Cancer Symposium, North Central Section AUA Annual Meeting, and ASCO Genitourinary Cancers Symposium.
Fellows receive funding and are encouraged to present research findings at national meetings.
Selected Recent Publications
Etheridge T, Liou J, Downs TM, Abel EJ, Jarrard DJ, and Richards KA.  The impact of Agent Orange on prostate cancer outcomes.  Journal of Urology 2018 (In press).PMID: 30321553
Richards KA, Lopez Ruiz V, Murphy DR, Downs TM, Abel EJ, Jarrard DJ, and Singh H.  Diagnostic evaluation of patients presenting with hematuria: An electronic health record-based study.  Urologic Oncology: Seminars and Original Investigations 2018; 36(3): 88.e19-88.e25. [PubMed ID: 29169843]
Damadaran S, Lang J, and Jarrard DF.  Targeting Metastatic Hormone Sensitive Prostate Cancer:  Chemohormonal Therapy and New Combinatorial Approaches.  J Urol (in press)
Richards KA, Liou JI, Cryns VL, Downs TM, Abel EJ, Jarrard DF. Metformin Use Is Associated with Improved Survival in Patients with Advanced Prostate Cancer on Androgen Deprivation Therapy. J Urol. 2018 Jun 22. PubMed PMID: 29940252
Luckenbaugh AN, Hollenbeck BK, Kaufman SR, Yan P, Herrel LA, Skolarus TA, Norton EC, Schroeck FR, Jacobs BL, Miller DC, Hollingsworth JM, Shahinian VB, Borza T. Impact of Accountable Care Organizations on Diagnostic Testing for Prostate Cancer. Urology. 2018 Jun;116:68-75. doi: 10.1016/j.urology.2018.01.056. Epub 2018 Apr 6. PMID: 29630957
Borza T, Oerline MK, Skolarus TA, Norton EC, Dimick JB, Jacobs BL, Herrel LA, Ellimoottil C, Hollingsworth JM, Ryan AM, Miller DC, Shahinian VB, Hollenbeck BK.Association Between Hospital Participation in Medicare Shared Savings Program Accountable Care Organizations and Readmission Following Major Surgery. Ann Surg. 2018 Mar 19. doi: 10.1097/SLA.0000000000002737. [Epub ahead of print] 
Borza T, Oreline MK, Skolarus TA, Norton EC, Ryan AM, Ellimoottil C, Dimick JB, Shahinian VB, Hollenbeck BK. Association of the Hospital Readmissions Reduction Program With Surgical Readmissions. JAMA Surg. 2018 Mar 1;153(3):243-250. doi: 10.1001/jamasurg.2017.4585. No abstract available. PMID: 29557880
Borza T, Kaufman SR, Yan P, Herrel LA, Luckenbaugh AN, Miller DC, Skolarus TA, Jacobs BL, Hollingsworth JM, Norton EC, Shahinian VB, Hollenbeck BK. Early effect of Medicare Shared Savings Program accountable care organization participation on prostate cancer care.  Cancer. 2018 Feb 1;124(3):563-570. doi: 10.1002/cncr.31081. Epub 2017 Oct 20.  PMID: 29053177 
Damodaran S, Damaschke N, Gawdzik J, Yang B, Shi C, Allen GO, Huang W, Denu J, Jarrard D. Dysregulation of Sirtuin 2 (SIRT2) and histone H3K18 acetylation pathways associates with adverse prostate cancer outcomes. BMC Cancer. 2017 Dec 20;17(1):874. PubMed PMID: 29262808; PubMed Central PMCID: PMC5738829.
Miller BL, Mankowski Gettle L, Van Roo JR, Ziemlewicz TJ, Best SL, Wells SA, Lubner MG, Hinshaw JL, Lee, Jr FT, Nakada SY, Huang W, Abel EJ. Comparative analysis of surgery, thermal ablation and active surveillance for renal oncocytic neoplasms. Urology. 2017 Oct 10. PMID: 29030073
Damaschke N, Yang B, Bhusari S, Avilla M, Zhong W, Blute ML Jr, Huang W, Jarrard DF. Insulin-like Growth Factor 2 Loss of Imprinting Engineered Using CTCF Binding Site Mutations Promotes Widespread Neoplastic Growth in the Prostate. Cancer Res. 2017 Oct 1;77(19):5236-5247. PMID:28775169
Wang JH, Sierra P, Richards KA, Abel J, Downs T, and Jarrard DF. Impact of Bilateral Biopsy-Detected Prostate Cancer on an Active Surveillance Population.BMC Urology. (in press).
Borza T, Jacobs BL, Montgomery JS, Weizer AZ, Morgan TM, Hafez KS, Lee CT, Li BY, Min HS, He C, Gilbert SM, Helm JE, Lavieri MS, Hollenbeck BK, Skolarus TA. No Differences in Population-based Readmissions After Open and Robotic-assisted Radical Cystectomy: Implications for Post-discharge Care. Urology. 2017 Jun;104:77-83. doi: 10.1016/j.urology.2017.01.042. Epub 2017 Mar 4. PMID: 28267606 
Abel EJ, Masterson TA, Karam JA, Master VA, Margulis V, Hutchinson R, Lorentz CA, Bloom E, Bauman TM, Wood CG, Blute ML Jr. Predictive nomogram for recurrence following surgery for non-metastatic renal cell cancer with tumor thrombus. J Urol. 2017 Apr 12. pii: S0022-5347(17)46137-4. PMID: 28411071.
Abel EJ, Spiess PE, Margulis V, Master VA, Mann M, Zargar K, Borregales LD, Sexton WJ, Patil D, Matin SF, Wood CG, Karam JA. Cytoreductive nephrectomy renal cell carcinoma patients with venous tumor thrombus. J Urol 2017. Mar 6. pii: S0022-5347(17)35378-8. PMID: 28268170
Blute ML Jr., Ziemlewicz TJ, Lang JM, Kyriakopoulos C, Jarrard DJ, Downs TM, Richards KA, Grimes M, Shi F, Mann MA, Abel EJ. Metastatic tumor burden does not predict outcomes following cytoreductive nephrectomy for renal cell carcinoma; a novel 3-dimensional volumetric analysis. Urology. 2017 Feb; 100: 139-144. PMID: 27667156
Blute ML Jr., Zorn K, Shi F, Downs TM, Jarrard DJ, Best SL, Richards K, Nakada SY, Abel EJ. Extreme obesity does not predict poor cancer outcomes following surgery for renal cell cancer. BJU Int. 2016 Sep; 118(3): 399-407. PMID: 26589741
Fellowship in Urologic Oncology