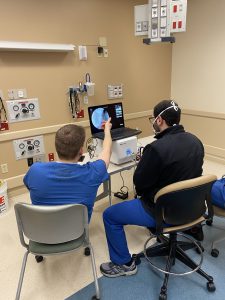 The goal of the fellowship is to provide the candidate with specialized training in the evaluation and treatment of urologic malignancies, as well as the background to assess and contribute to the field of research in urologic oncology.
Annually at UW hospital, the Department of Urology performs more than 7,500 clinical and surgical patient encounters for genitourinary cancers. These include:
Bladder Cancer Procedures
Open and Robotic Cystectomy
Ileal Loop and Neobladder Diversions
Prostate Cancer Procedures
Open and Robotic Prostatectomy
Interstitial Prostate Brachytherapy
Kidney Cancer Procedures
Laparoscopic, Robotic and Open Radical Nephrectomy
Robotic and Open Partial Nephrectomy
Excision of Metastatic Lesions
Percutaneous CT Guided Renal Tumor Ablation
Testicular Cancer Procedures
Robotic and Open

RPLND

Postchemotherapy

RPLND
Penile Cancer Procedures
Partial and Total Penectomy
Glans Sparing Penile Cancer Procedures
Inguinal Lymph Node Dissection
Fellows will gain a broad and advanced experience using modern methods for diagnosing and treating urologic cancers. Weekly interdisciplinary interactions with radiation oncology, medical oncology, radiology and genitourinary pathology provide strong interdisciplinary training. The fellow is exposed to and performs a wide array of primary and advanced cancer operations using open, laparoscopic and robotic approaches.
Individual rotations with medical oncology and radiation oncology are integrated into the curriculum to facilitate a rounded education in treatment of genitourinary cancer treatment.
The Department of Urology has a history of pioneering minimally invasive surgical procedures, and fellows will receive advanced training in minimally invasive and open surgical techniques for urologic oncology.
After completion of Urologic Oncology training at the UW, fellows will have gained valuable experience in all of the major surgical procedures involving bladder cancer, prostate cancer, kidney cancer, penile cancer, adrenal cancer and testes cancer.
Fellows will be exposed to emerging new surgical technology and cutting edge techniques for cancer treatment through an active clinical trials program at the UW.
Fellows will actively participate in a high volume of surgical procedures with the Oncology faculty during their clinical training including (estimated volumes from prior training years)

Prostatectomies — 250 per year, robotic and open approaches
Nephrectomies — 100 per year, robotic, laparoscopic and open approaches including

IVC

thrombectomies and lymph node dissections
Cystectomy with urinary diversion — 100 per year including experience with neobladder and pouch diversions
Complex lymph node dissections (not including pelvic

LND

) — 75 per year, retroperitoneal lymph node dissections and inguinal lymph node dissections for urologic cancers