The University of Wisconsin School of Medicine and Public Health made history this past April when interventional radiologist Erica Knavel Koepsel, MD teamed up with UW urologic oncologists Tudor Borza, MD and David Jarrard, MD to complete Wisconsin's first MRI-guided cryoablation. Two weeks later, the team performed the UW's first-ever MRI-guided biopsy of the prostate. A novel form of "focal therapy," these procedures offer select patients a more accurate, minimally invasive option in the treatment of prostate cancer.
"To have this program up and running with all of Erica's efforts allows us to provide the entire spectrum of prostate cancer treatment right here," says Dr. Borza.
UW urologists have been doing MRI-fusion prostate biopsies in clinic for some time. But MRI-fusion is an ultrasound-guided MRI adjunct biopsy. "Many places will do MRI fusion, but few can do true MRI-guided biopsies or ablations – and that's an important distinction," says Dr. Borza.
In fact, only a handful of sites in the country have the equipment and expertise to perform this novel form of focal therapy for treating prostate cancer. Since that first MRI-guided ablation last spring, patients have come to UW from as far away as Georgia to have the procedure done.
First used for the treatment of localized prostate cancer in 2007, focal therapy targets a specific area of tissue with one of several forms of energy. Cryotherapy, a "tried and true" technique for destroying tissue in the prostate and other solid organs, is the type of focal therapy used at UW.
"With the use of many new technologies," says Dr. Borza, "there is a leap of faith – that's not happening here." Bringing together two well-established tools – cryotherapy and MRI technology – makes this therapy both "innovative and reassuring."
The Advantage of MRI Guidance
MRI is used regularly to diagnose prostate cancer, but by adding MRI to biopsies and ablations, Dr. Knavel Koepsel explains, "we get to have that diagnostic-quality imaging to guide these procedures" and that "allows us to see smaller lesions or more subtle lesions, things that we may not be able to see with other modalities – on MRI it's very clear."
"To do this well, we're not just doing a procedure. We're caring for a patient."
For a select group of patients with prostate cancer, this new program offers a minimally invasive approach with fewer side effects – like impaired urinary and erectile function – and a shorter recovery time than standard treatments. But identifying that subset of patients is key.
Dr. Borza describes the most ideal patient as someone who wants to minimize the complications from other treatments, whose cancer is in the one area of the prostate that can be seen well on MRI, and whose cancer is "not high risk." For patients who meet these criteria, a more comprehensive evaluation is still necessary. The expertise of UW's fellowship-trained urologic oncologists is thus crucial to ensuring that patients are counseled appropriately and that the right patient gets the procedure and careful follow up afterward.
A Protocol of Planned Follow Up
Because a substantial portion of the normal prostate tissue is left behind, patients receiving this treatment experience few side effects. For that same reason, these patients have a potential risk for cancer recurrence in a different, untreated part of the prostate. In response to this risk, the team has put in place a "rigorous follow-up algorithm" that includes careful monitoring with PSA testing, imaging, and planned biopsies.
Drs. Borza and Knavel Koepsel stress that this new tool should be viewed, not as a procedure, but as a comprehensive "program of focal therapy" that includes in-depth evaluation, expert treatment, and planned follow-up – and this approach is exactly what makes the collaboration between UW Radiology and Urology so beneficial.
"Working as a cross-disciplinary team makes us unique."
Very few institutions in the country structure this kind of program so that the radiologist and the urologists work together as a team. Typically, focal therapy is delivered by one or the other of these specialists.
"I think one of my favorite parts of the program is that it's collaborative," says Dr. Knavel Koepsel.  "We're all working together as a team to make sure that we're providing this service – and providing it to the right patients."
In addition to Drs. Knavel Koepsel, Borza, and Jarrard, the team includes anesthesiologists, advanced practice providers, and technicians.
"Yes, it's the three of us," says Dr. Borza, "but there is the larger team that is so critical to getting these patients safely through the entire process."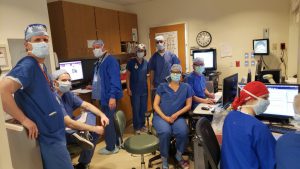 Establishment of this program is an exciting UW SMPH milestone. It represents a groundbreaking expansion of UW's Interventional Radiology capabilities and the addition of a powerful new tool to an already robust UW Urologic Oncology toolbox.