We based our model on the model published by Coe and Curlington (2015).
Supplies:
Bicycle tire inner tube: mountain bike size, 26×2.25 inches
Latex tubing: 1/8 inch outer diameter, 1/16 inch inner diameter. Should be latex, not silicone
Penrose drain: ¼ inch x 18 inches
Wood block and extra large binder clip to secure model
Instruments:
2 vas ring forceps/clamps
1 pointed vas dissector
2 pickups (optional)
1 scalpel (#15 blade) (optional)
Preparation
Cut the bicycle tube ~ 8 – 8 ½ inches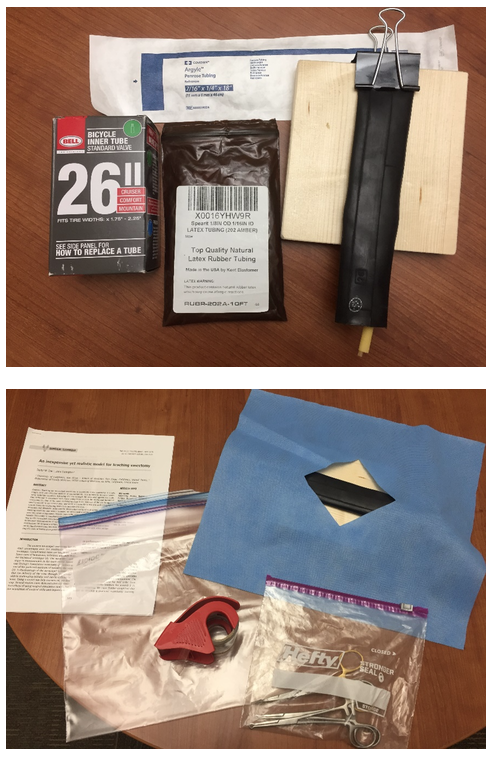 Cut the 18" penrose in half (9")
Cut the latex tubing 9"
Place the latex tubing inside the penrose and place that inside the bicycle tube.
Can also place other "tubes" inside that are softer than the vas – resident will palpate for the appropriate tube. Yarn works well for this.
Secure to wooden base with large binder clip
Place instruments in small plastic bag
In large plastic bag, place instruments, article with instructions, model, tape, and blue fenestrated drape.
Vasectomy Model – Instructions for Resident
Secure wood base to table with tape.
Cover with fenestrated drape.
Perform vasectomy to the point of cleaning the fascia off the vas. Use the article to see the steps.
*Note, there may or may not be other "tubes" in the model, you will need to palpate to identify the vas.
Do not cut the vas – this will allow multiple attempts with the same model.
Take care with the vas dissector so it stays as sharp as possible (thanks!)
Return everything in bag.
Let (insert contact person's name) know if you need replacement parts.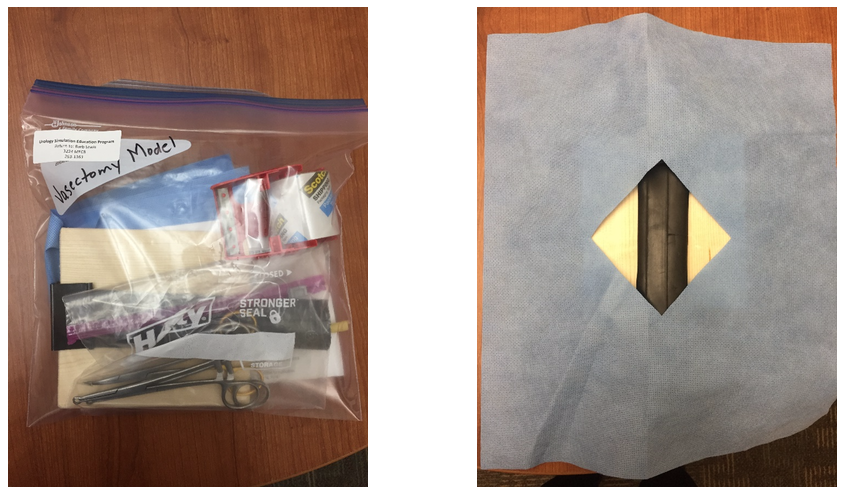 Urology Simulation
Education Program
---
PGY-1 Bootcamp
Surgical Skills Labs
Simulated Patient Scenarios
Simulation Resources