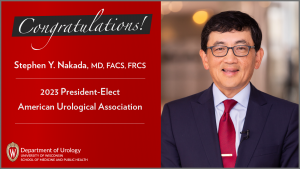 Stephen Y. Nakada, MD, chairman of the Department of Urology at the University of Wisconsin School of Medicine and Public Health, was elected as the 2023 President-Elect of the American Urological Association (AUA).
Dr. Nakada will take the office of President-Elect at the conclusion of the AUA Chicago meeting in 2023, and will become President at the end of the AUA annual meeting in 2024.
When he takes office, Dr. Nakada will join the short list of urologists to have ever served as both ABU (Board of Urology) and AUA President.
"I am honored, humbled, and grateful for this opportunity," said Dr. Nakada in response to the announcement.
Congratulations on this well-deserved honor!
Updated 2/23/2022