2022 Interview Dates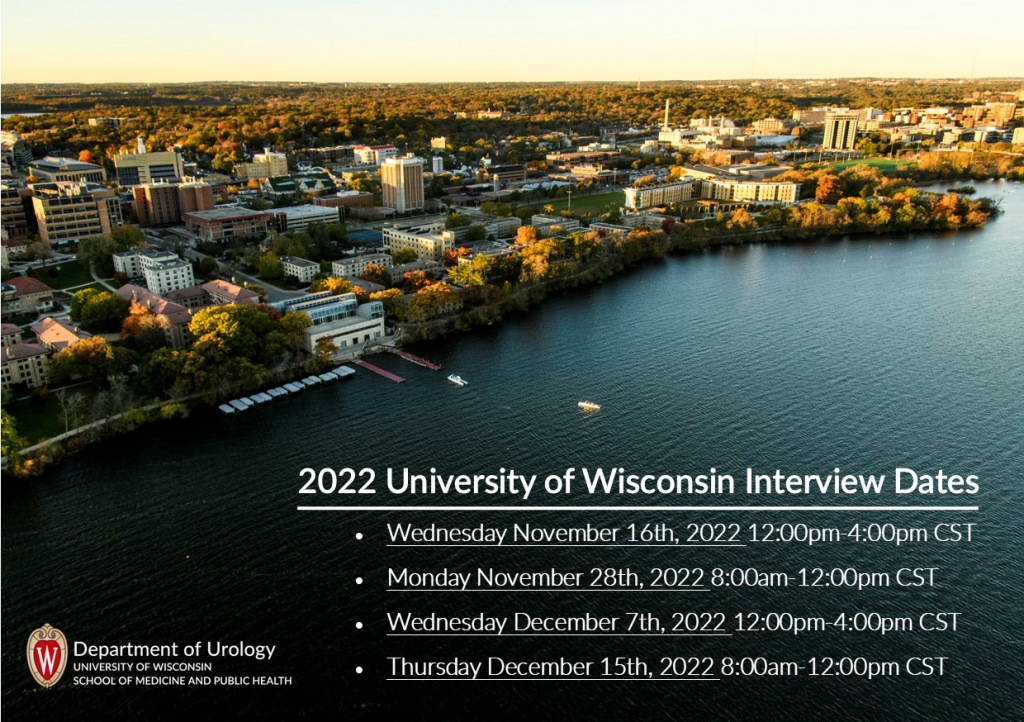 Thank you for your interest in the Urology residency training program here at the University of Wisconsin.
We are proud to offer exceptional urologic training in a state-of-the-art facility with outstanding faculty committed to innovation, education, and excellence in patient care. The process for applying for residency is outlined below.
We participate in the Urology Match, which is overseen by the AUA in conjunction with the Society of Academic Urologists (SAU). The Urology Match occurs in late January/early February. We offer three categorical positions that start in the PG1 year. For detailed information regarding the Urology Match timeline and policies, visit:
To be considered for the program, please make sure the following materials are provided electronically through the Electronic Residency Application Service (ERAS) by September 28, 2022:
three letters of recommendation
letter of support from your medical school Dean (MSPE)
official medical school transcript
USMLE score reports
personal statement describing aspects of your background in a way that might give your application special merit.
All application materials will be reviewed by our selection committee. We will inform you via e-mail of their decision regarding an interview.  This year our virtual interviews will take place on November 16, November 28, December 7, and December 15.
The University of Wisconsin Department of Urology Resident Selection Policy can be found on page one of the Resident Training Manual. Please also refer to the UW Health Graduate Medical Education (GME) page for more information regarding Applicant Resources as well as Non-US Citizen Requirements.
We look forward to receiving your application and meeting you here in Madison!
Graduate Medical Education Diversity Social Hour for URM Applicants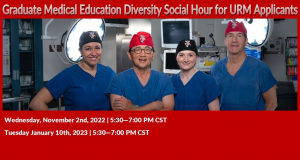 Wednesday, November 2, 2022
5:30 PM – 7:00 PM (CST)
Tuesday, January 10, 2023
5:30 PM – 7:00 PM (CST)
UW Health and the University of Wisconsin School of Medicine and Public Health are committed to building a culture in which the values of diversity, equity, and inclusion are embedded into all of our clinical, teaching, and research activities. We know life in Madison, WI is about more than just work; opportunities to connect and network are critical.
We hope you can join us for a Virtual Diversity Social Hour to hear from staff, residents, fellows, faculty of color, and other groups underrepresented in medicine about life in Madison.
All applicants are welcome!