Collaborative Care.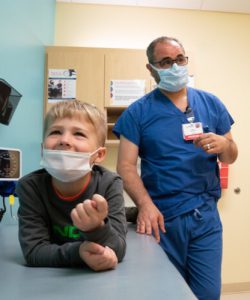 Our department brings experience and diverse approaches to the care of complex urogenital anomalies.  We are highly collaborative and work hard to make multidisciplinary care achievable for patients dealing with complex urologic and bowel disorders, spina bifida, and variations of sexual characteristics. We are working hard to push the envelope in all aspects of care.
Promoting Holistic, Long-Term Relationships
Our division is dedicated to caring for children, adolescents, and adults who have undergone or continue to undergo treatment for congenital urologic conditions including, but not limited to, hypospadias, spina bifida, cloacal/anorectal malformations, and transitional urologic care.
Promoting Equity, Inclusion, and Representation in Care Deliverance and Physician training
We are all working to ensure that all patients have access to high-quality urologic care across a spectrum of disease processes, including hypospadias, undescended testicles, and other complex congenital urologic anomalies.
Some of our programs are described below. 
This is an accordion element with a series of buttons that open and close related content panels.
Hypospadias
All of our fellowship-trained faculty have expertise in the repair of distal and complex hypospadias, as well as repair of complications after hypospadias surgery
Spina Bifida
Dr. Ruthie Su serves as the director for urologic care for our multidisciplinary children, youth, and young adults treated for spina bifida.
Transitional Urologic Care
Dr. Walid Farhat, our division chief, works with providers in the adult urology department to optimize our approaches to care for young adults previously treated for congenital urologic anomalies.
Congenital Hydronephrosis and Fetal Anomalies
All of our faculty have expertise in the management of antenatal hydronephrosis, and the use of minimally invasive techniques for surgical repair of hydronephrosis.
Dr. Bhatia works with UW's maternal-fetal-medicine specialists, pediatric surgeons, and nephrologists to help optimize care for infants found to have lower urinary outlet obstruction.
Renal Transplantation Medicine
Dr. Farhat works closely with our pediatric nephrologists and transplant surgeons to ensure that our patients receive excellent bladder care before and after surgery. All of our faculty have expertise in the care of the bladder and kidney after renal transplantation.
Robotic Surgery
Drs. Farhat, Su, Cannon, and Bhatia all provide robotic approaches to ureteral reconstruction including pyleoplasties and reimplants, as well as advanced robotic surgery for bladder reconstruction (including Mitrofanoff creation, Malone Antegrade Continence Enema, bladder augmentation).
Variations of Sexual Characteristics and Hypospadias
Drs. Farhat and Shannon Cannon work with our endocrinology and psychology teams to facilitate the highest level of multidisciplinary care for our Gender and Sex Development Clinic.